News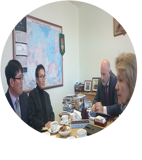 The RusAgroInnovations company representatives have discussed the possibility of implementing modern greenhouse facilities in Trans-Baikal
08.11.2015 15:00
On November 6 in Moscow's representation of the Government of Trans-Baikal Territory took place a meeting between the Governor Konstantin Ilkovskiy, the director of RusAgroInnovations Dolaberidze Svetlana and representatives of the company SGT CO., LTD. During the meeting, they discussed the implementing of modern greenhouse facilities. It was noted that RusAgroInnovations company not only delivers the South Korean greenhouse modules, but also introduces advanced agricultural technologies and accompanies them throughout the period of operation. According to the Korean representatives, the greenhouse modules can be used for growing vegetable and fruit crops, placing fowl farms and farms for cage culture fishery, and more. All at a high level of environmental and energy-saving conditions. South Korea is the recognized world leader in greenhouse business, it has more than 54 thousand hectares of greenhouses land, ahead of many European agricultural sector oriented countries. "Greenhouse farming is able to grow almost year-round fresh organic products, providing an economically scalable business in the agricultural sector and high quality employment" has remarked the Governor. The strategy and investments director of the company "Mangazeia" Roman Kashuba also attended the meeting. Head of the region has invited Korean and Russian colleagues to visit Trans-Baikal Territory to evaluate and develop the most appropriate and effective model of the greenhouse farming in conditions of extreme continental climate.
The openning ceremony of a Korean-type greenhouse
22.07.2015 04:00
On July 22, within the V Tyumen specialized agricultural exhibition Agricultural Machinery and Equipment, Field Day, a Korean-type greenhouse (built under supervision of RusAgroInnovation Company) was opened. The following persons took part in the event: Petr Chekmarev, Director of the Plant Cultivation, Chemicalization and Protection Department under the Ministry of Agriculture of the Russian Federation; Vladimir Nikolaevich Cheimenov, Deputy Governor of the Tyumen region, Director of the Department of Agricultural Sector, Government Presidium member; Askhat Akhtyamovich Sharapov, Director General of SUE Republican Agricultural Center of Investment and Innovation, and Kang In Gu, First Secretary for Agriculture and Fisheries in the Republic of Korea Embassy.
The persons being at the opening showed interest in the technologies applied in South Korean greenhouses, evaluated the quality and simplicity of automation, energy saving methods, quality of metalware and film permitting 98% light through. Prospects for cooperation in the field of greenhousing were discussed, and business agreements were reached.
The meeting of RusAgroInnovation representatives with Deputy Prime Minister of the Republic of Tatarstan
20.07.2015 01:00
On July 20 RusAgroInnovation representatives met Marat Gotovich Akhmetov, Deputy Prime Minister of the Republic of Tatarstan, Minister of Agriculture and Food. Askhat Akhtyamovich Sharapov, Director General of SUE Republican Agricultural Center of Investment and Innovation also took part in the dialogue. Problems of small and average greenhouse business and prospects for cooperation were discussed. Some mutually advantageous agreements were reached.
Pages: [
1
] [
2
]
3
[
4
]